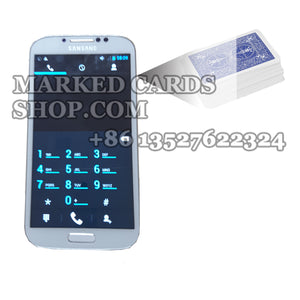 Poker Card Camera Cell Phone With faster Scanning Speed for The Analyzer System
---
Scanner carrier: Cell phone
Price: Please contact 0086 135 2762 2324
Scanning distance: About 20-40 cm
Applicable people: Player
Marked cards type: Barcode marked deck
Can be matched to any model of poker analyzer
Poker card camera cell phone is a poker cheating device that can work as a poker card analyzer and used to scan bar-codes edge sides marking playing cards. It looks the same as the normal cell phone, but inside the phone we install a mini camera to scan barcode marked cards. Cell phone is a very common thing, so even you put it on the table, people will not pay attention to it.
We will make the cell phone poker card camera as our customers' requirement and make different frequency for the camera, so that the card camera will be able to work with your poker analyzers. No matter what kind of poker analyzer you have, AKK, CVK, PK King, we can make correct frequency to work with your certain poker reader as your requirement.
As for the scanning distance of phone poker card camera, you will have some different options, as we can make 8 - 15cm, 10 - 20cm, 20 - 40cm, 40 - 60cm.
The cell phone poker cards camera is using the same battery with the scanning analyzer. You can take a power bank with you in case they are power off. There is poker hand analyzer that can be changed battery, you can repare another battery for replacement if the battery is run out of power during the poker game.