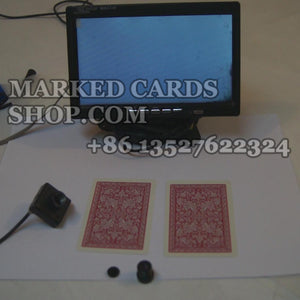 Infrared Poker Camera 360 Degree
---
Omnipotent 360 degree infrared camera is one of the most advanced poker cheating devices and it can see the IR ink marked playing cards while other cameras can not check anything on the IR camera marked cards.
The 360 degree omnipotent IR camera can help you a lot if you want to have the poker room in your monitor. Because this omnipotent IR marked cards lens uses cradle head to control Omni-directional shooting angle, and that can maximize the range of the monitoring distance to read all the undetectable luminous infrared marked deck of cards on the poker table or where within the room.
How does the 360 degree infrared marked cards camera work?
The undetectable IR marked cards camera for seeing new IR ink playing cards can not work as a single device. By one hand, the IR camera marked poker cards are the necessary element to use on the poker game while others with invisible ink contact lenses can't check. By the other hand, the a led screen such as a cell phone, a TV or a Pc is necessary, with which you can see the infrared ink marks of the IR camera marked decks. What's more, the user need to have a partner to work together. If you are the poker player, you need to have a partner to see the markings in a secret place and send you the important information of the poker cards or game so as to let you dominate the whole game!
Such a Infrared camera lens can be easily installed in some items above the poker table, take the ceiling for example. You can have it connected with the power supply directly without batteries, which can make the camera work without time limits.
And for every camera, there's a certain distance within which everything work every well to see the marked decks. Thus before making an order of the camera here, it's better that you can tell us exactly the size of your poker table and the height that you want to install the camera, s o as to make everything work in the right place.