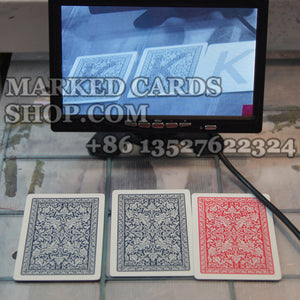 IR camera marked cards are marked with the special infrared ink marks that normal luminous ink readers can not detect. The infrared camera marked deck of cards is a new kind of undetectable infrared juice playing cards.
Undetectable infrared ink marked playing cards
This kind of infrared playing cards can be marked in the same marking model of invisible ink marks for poker contact lenses or marked cards glasses, as well as other model marks if customers have special requirements. Being the outsiders, people may think this kind of infrared ink looks no differences to contact lenses poker ink, but it's visible in very special infrared light only and the normal infrared contact lenses and sunglasses can't see this IR ink marked decks at all.
Our technical staffs can mark the infrared ink marked playing cards well with the most advanced poker marking machine and the marks won't be visible to naked eyes or marked poker contact lenses.
Any brands of poker playing cards can be marked as this infrared juices marking cards, no matter it is plastic cards or paper cards, poker size cards or bridge size cards, jumbo index ones or regular index ones. We can mark any color ones including red, blue, orange, purple and so on. Just let us know the cards details if you want to do an order.
Infrared camera sees IR marked cards
We must notice that the infrared marking cards need to be seen by the infrared camera only. It uses the long distance IR camera with infrared filter to read the infrared ink playing cards and with monitor such as a small cell phone or a big phone, you can see the cards of the whole table clearly.