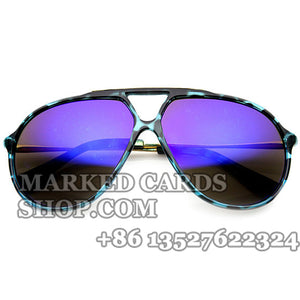 X-ray Vision Sunglasses to See Poker Cards Value and Suits
---
| | | | |
| --- | --- | --- | --- |
| Model | X-ray vision sunglasses | Origin | China |
| Material | Plastic & metal | Validity period | About 3 year |
| Size | Normal size | Application | Magic, poker cheat, casino game |
X-ray vision marked cards sunglasses is the latest series of poker cheating glasses. It is fashion, good looking and has a perfect effect in reading the secret marks playing cards.
The first generation of marked cards sunglasses is simple and crude, not even looking good. It's just two pieces of invisible ink lenses embedded in the glasses frame. As we know, the lenses of poker cards glasses look different from the normal lenses, it was thicker and the color was deeper. So it took a long time to develop into such a normal looking poker cheating sunglasses.
At first, sunglasses are designed to protect our eyes from harmful UV radiation and blue light. With time pass, sunglasses became a fashion, especially for artists and film stars. Then, people will wear sunglasses to hide the abnormal appearance of their eyes or avoid eye contact effectively. For example, many professional poker players wear sunglasses indoors while playing, so that it is more difficult for opponents to read their eye movement and thus gain an advantage.
This X-ray vision marked deck sunglasses are used to read the X-ray marked deck, as well as the luminous ink marked cards, while normal marked cards sunglasses can't read the X-ray marked poker deck.
Oversize X-ray vision sunglasses are a super cost-effective poker cheating device with such perfect function and awesome outer appearance.