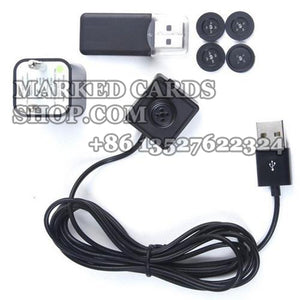 Auto Tracking Radar Button Camera for Texas Holde/Omaha/Blackjack
---
Price: Contact 0086 135 2762 2324
Scanning distance: 20-40 cm, 30-60 cm
Battery time: About 3 hours
Application: Texas Holdem, 4/5 cards Omaha, blackjack
Matched analyzer: Any model of poker analyzer                                                                                                                                       
Button poker scanner is of the traditional technology marked cards camera lens. However, the barcode marked decks Auto tracking scanning camera is one of the latest technology these days.
As the name indicates, Auto-tracking radar button camera is a poker scanner with radar skills hid in the clothes button that can scan the bar code sides of marked playing cards for poker analyzer to predict the poker results.
This is a real button which can provide you to be used on your shirt or Jacket or coat, this is a common object, while more common objects, it is hard to discover or realize them, they will be more convenient to be used, as it is a shirt button camera on the chest to scan marked cards for poker analyzers. This radar camera can focus on the image of invisible markings automatically in a high speed even when the marked deck of cards is moving in hands as long as it is within the certain scanning distance of the scanner camera.
There are two different scanning distance that can work, 20-40 cm, 30-60 cm, for this radar button camera.
The short distance 20-40 cm, is the most suitable for the poker dealer to catch barcode marks from the playing cards on the hands. It can read it very soon and send signal to the playing cards analyzer which can analyze and report you the winning hands very soon within 0.1 seconds.
And for the long distance 30-60 cm, it is mainly for reading the poker cards on the table. It's an amazing device that can work for the poker players with phone analyzer system.
There are also other buttons which looks the same as normal one, but there is spy lens inside it. You can put it on your own T-shirt and it can catch nobody's eyes.