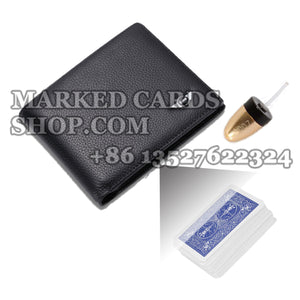 Bifold Wallet Poker Cheating Camera with 20-40 CM Scanning Distance
---
Scanner carrier: Bifold wallet
Price: Please contact 0086 135 2762 2324
Scanning distance: About 8-15 cm, 20-40 cm
Accessories: Spare battery, mini earpiece
Marked cards type: Barcode marks poker cards
Can be matched to any model of poker analyzer
Wallet poker cheating camera can scan the invisible barcode deck for the cheating analyzer phone to get the winning hands for Texas Holdem or Omaha game. 
Structure of wallet poker cheating camera
Bifold wallet poker camera can be divided into 2 main parts, the wallet as carrier, the mini camera with signal transmitter be hidden inside. When the mini spy camera be put inside the wallet, it is hardly be detected from the surface.
There is an extra remote controller for controlling the power. This can help for prolonging the battery support time. For more special requirements on the wallet scanner camera, our professional technician would do their best to finish it if it is workable to do.
Working range of wallet scan camera
The scanning distance is refer to the distance from the position of  marked cards scanner to the cards position. The size of the longer distance range camera will be a little bit bigger than the short distance one. Thanks to the different mode wallet, the mini camera has wide distance range for option, such as 8-15 cm 20-40 cm, 40-60 cm.
For the camera itself, we have economy basic camera, advanced non snowflake camera, the high resolution automatically barcode tracking function camera for choices. For the wallet, there is big brand, or no name, fabric material, leather material for selection. You can combine the camera type and wallet material at your convenient according to the budget..
No matter high quality or low price wallet scanning poker lens, here we can meet your requirements.