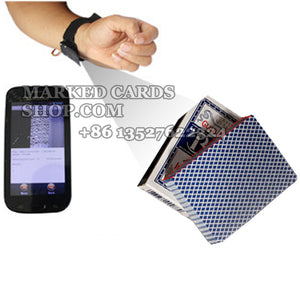 Bee Marked Barcode Decks for Poker Winner Analyzer
---
The Bee marked barcode deck is different from the cards with luminous mark. The barcode is invisible and can be read by a poker analyzer only while the luminous marking can be read with a pair of UV invisible ink contact lenses. These cards are suitable for different kinds of poker games such as Texas Hold'em or OMAHA games.
Good quality playing cards
Bee playing cards are made with premium quality. Considered more durable than the average paper cards, these playing cards maintain their shape for increased play and use. Bee playing cards have been setting the standard for quality since 1892. With their patented coating and unique finish, Bee brand cards last longer and give your games superior slip, snap and feel.
How can we use the BEE marked decks of playing cards?
When you have bought a deck of Bee marked poker cards, you can find no differences between the normal one. If you bought poker cards with invisible barcode surrounded by four sides, you also need a poker scanner camera and poker analyzer to work together. These poker cheating kit will be your perfect devices in the game.
When you play poker games with your friends, you can use the invisible barcode deck, then install a camera inside a object you need. The camera will scan the invisible barcode, and you can get a data or image the poker analyzer. Finally, it can tell you who is the biggest winner or the rank of the players before the game starts. It is the easiest way to let you know the result in advance.
Where to buy a good Bee marked barcode decks? markcardsshop.com offers you the best quality marking cards. Both the US BEE regular playing cards and Jumbo index BEE cards are available here.