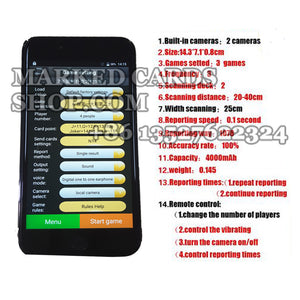 CVK 600 Poker Analyzer Cheating System - Latest Poker Analyzer in The Market
---
| | | | |
| --- | --- | --- | --- |
| Model | CVK 600 analyzer | Built-in camera | 2 scanners |
| Battery | Undetachable | Scanning distance | 20-40 cm |
| Application | Texas, Omaha, Blackjack | Scanning deck | 2 decks |
In the recent years CVK poker analyzer has emerged as one of the most popular poker cheating device. CVK 600 poker analyzer is the special model poker scanner analyzer that is designed on the basis of most advance technology used till date to customize a smart phone into a poker analyzer. From the out look, the CVK 600 analyzer is a popular fashionable Iphone.
CVK 600 poker analyzer is a daily use smart phone. You can make calls or surf the net or take photo. To use the CVK 600 poker cheating device, the user need to input an passcode to start the game cheating app. Then, the analyzer will connect the poker scanning camera. As soon as the poker cheat camera reading the barcode marked cards on the poker table, this Iphone poker analyzer can report to the user the game result with 100% accuracy.
 Features of the CVK 600 Poker Card Analyzer:
Very stylish and real looking device.
Built in camera with rapid card scanning speed.
Compatible to use with all wireless scanner camera.
To know the information from the device user can use phone timeline as a result indicator.
User can also make the use of wireless earpiece to receive information. User can wear this earpiece without causing damage to the ear.
Speed of reporting can be adjusted manually by the user.
CVK 600 mobile cheating device comes with pre stuffed games like poker games, such as Texas hold'em, Omaha, Mahjong, Blackjack, Seca, flash and so on.