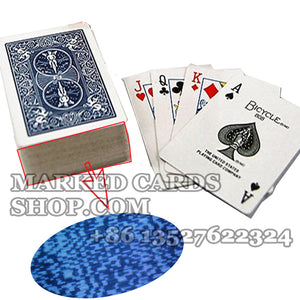 Bicycle Barcode Marked Cards for Poker Scanner Analyzer
---
There are different kinds of playing cards in the market. One of the most popular playing cards is Bicycle poker. It widely be used for many counties. There are 2 material for Bicycle cards. One is paper, and the other is plastic.
Bicycle playing cards are also be used as poker trick tool. The new technology makes the barcode Bicycle marked cards come to the poker world.
We study the barcode bicycle marked cards for over 10 years. We have the full knowledge about the dependence of surface mass density profiles, which can be directly imprint with invisible barcode Bicycle. And the marking measured by the scanning camera lens.
The barcode mark on Bicycle can be made for different types of game, for example, blackjack, Texas Holdem, Omaha... It barcode can embody the numbers and the suits. It also can be adjusted for different types of the poker scanner.
Some customers are worried about its maintain time of invisible ink, here we can make sure, it can stay on cards for more than 1 year. With 10 years experiences, the Barcode Bicycle marked cards we provide is top quality and favorable price. Frankly speaking, our Bicycle playing cards are marked with cheating barcode mark through a series of specific processing steps, such as basic coating. All back pattern style of Bicycle can be printed with the barcode ink. The red, blue, grey color is also no difference for us with the barcode marking effect.
The thing we should point is how to store the deck when you receive the package. It is better for user to put these Bicycle cards in seal box to anti water and sunshine. When you use the deck, better not scratch the cards, in case any piece of it be damaged.
We believe our first-class quality barcode Bicycle marked cards can help you gain much fun from the poker game. Contact with our salesman to get more information right now.