Fournier Prestige Bicycle Marked Poker Cards for Contact Lenses
---
| | | | |
| --- | --- | --- | --- |
| Brand | Fournier | Size | Poker size |
| Color | Red & blue | Index | Standard index |
| Origin | Spain | Material | 100% plastic |
Fournier Prestige Bicycle marked poker cards with luminous marks can't detected by our naked eyes. They need to work with specialized marked cards readers. The common readers are infrared contact lenses and sunglasses. With the help of these devices, players can clearly see the marks on the Fournier Prestige Bicycle playing cards.
Marking Poker with Invisible Ink is the Best E
ffect
The ink to mark these cards has been experienced many experiments in order to find out the best effect of these Fournier Bicycle marked decks. With the ink, the marks are very clear and can last for long time. Besides the ink, all of our Fournier Prestige Bicycle cards are also good quality which are bought from their origin, Spain. Even after the process, nothing will be changed. Other players just think these are common Fournier Bicycle poker decks, not marked poker cards.
Fournier Prestige Bicycle marked poker cards have the same backs with US Bicycle cards. But the material and package are totally different. Fournier Prestige Bicycle poker cards are plastic while the US Bicycle are paper. Compared with paper cards, Fournier Bicycle plastic marked poker decks can be used for longer time. And they are very easy to shuffle because they won't stick together.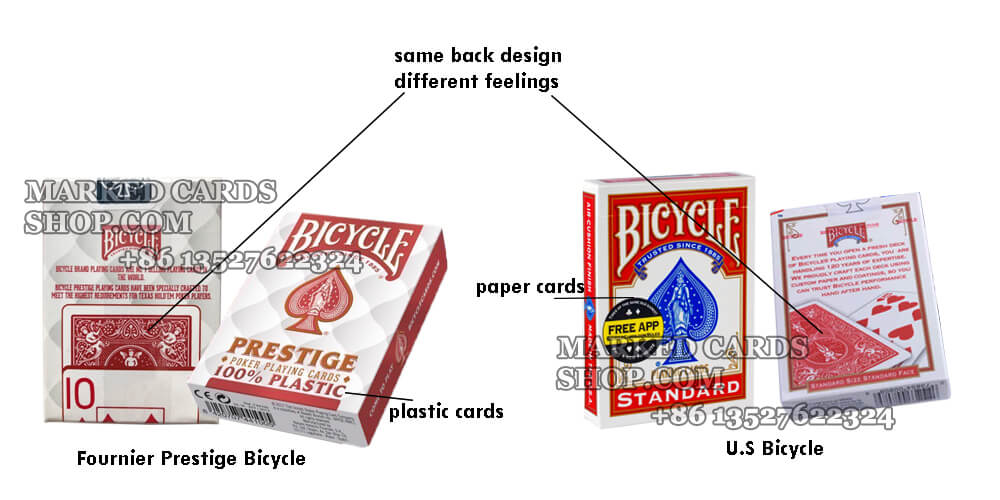 We have its new version package in stock. You can get the best quality Fournier Prestige Bicycle marked poker cards in our store.