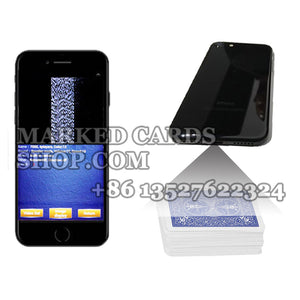 CVK 400 Iphone X Poker Analyzer Cheating Device With BlueTooth Headphone
---
| | | | |
| --- | --- | --- | --- |
| Model | CVK 400 | Scanning distance | 20-40 cm |
| Matched scanner | Any model of poker scanning camera | Scanning deck | 2 decks |
| Remote control | 1 remote control | Application | Poker cheat, casino cheat |
Have you ever heard of poke analyzer? How much do you know about the poker analyzer Iphone? If you want to know more details about it, please read the following passages or add this whats app 0086 135 2762 2324.
Iphone poker scanning analyzer CVK 400 is a poker analyzer device. It works with barcode marked cards and predict the winning hands accurately in the 7 cards Texas Holdem and Omaha game. At the begaining, poker odds calculator app is in Samsung phones, some are set in Nokia phone, and now poker Iphone analyzer come out to the market.
CVK 400 poker analyzer is an poker odds calculator in real Iphone X. CVK 400 Poker ananlyzer Iphone X is suitable for any poker games, such as Omaha 5, 7 cards Texas Holdem, Rhonda, Backjack, Baccrat and so on.

You can also enjoy all the functions as a smart phone, such as surfing the net, making call and taking photos. It is hard to cause the attention of other poker players with a normal look of Iphone. Iphone poker scanner analyzer has a scanning camera inside to read barcode poker cards. And this CVK 400 poker analyzer can work with any other marked cards cameras as well, such as USB cable camera, water bottle camera, cigarette box camera.

What's more, you can send your cell phone to us to install a poker scanning analyzer for you.