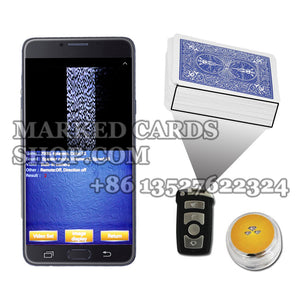 Omaha Poker Winner Analyzer With Highest Accaracy in Poker Cheating Devices
---
| | | | |
| --- | --- | --- | --- |
| Model | Omaha poker analyzer | Working distance | 20-40 cm |
| Battery | Detachable | No. of game | 3 games |
| Earpiece | Spy/Bluetooth earpiece | Application | Texas, Omaha, Blackjack |
Poker odds calculator plays perfect role in Omaha games tricks.
Omaha game was first introduced in the 1980's, but it quickly achieved great popularity among casino and tournament players. In Omaha, each player receives four private cards and there are five community cards on the table. In the showdown exactly two private cards together with three community cards must be used to make the player's best hand.
So do you want to play Omaha game smoothly and easily? The Omaha poker hand analyzer is a helpful and good tool for you.
What is Omaha poker odds calculator?
The Omaha game winner predictor is a cell phone that can calculate the best hands for you.
The whole kit of poker analyzer cheat includes:
A analyzer ( A cell phone)
A poker camera
special marked cards
mini earpiece
The Omaha poker winner analyzer is a cell phone, which has hundreds and thousands of poker games inside this it. And this poker analyzer is a real cell phone, you can use it to make a call, send message, take pictures, surf internet and so on.
When you play poker Omaha game, you just need to put the poker camera on the table, it will scan the barcode marked deck automatically, after the poker analyzer scan the cards, it will transfer the information to the poker hand analyzer which will analyze the information and tell the best hands very quickly, you can hear the result by mini headphone.
The barcode poker cards are marked with four sides, so no matter the poker camera scan the short edges or long edges, they all will work.
The poker winner analyzer is a wonderful cards cheating device for your Omaha game!