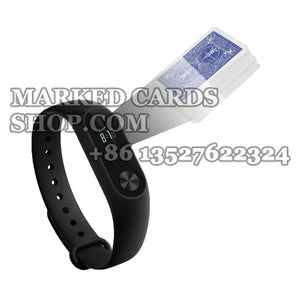 Fashionable Bracelet Poker Scanning Camera for Cheating Cards in Texas Holdem
---
 Scanner carrier: Bracelet 
Price: Please contact 0086 135 2762 2324
Scanning distance: 8-15 cm, 20-40 cm
Battery time: About 3 hours
Marked cards type: Invisible ink barcode marked cards
Can be matched to any model of poker analyzer
Bracelet poker scanner is a poker cheating device that uses with poker hand analyzer to know game results before you make a bet on Omaha game. It can track your steps, your heart rate, blood pressure, the calories you burned. When you are using this marked cards smart bracelet , your friend may think you are checking your heart rate instead of cheating. What's the function of this camera? In fact, It is use to scan the invisible barcode of a marking deck. The smart bracelet is able to connect with the phone or computer. If your bracelet is out of electricity, you can use USB cable to charge it.
The scanning scope of a poker spy camera
A poker camera need to work together with barcode card marking and poker analyzer. Using poker scanner camera is the only way to read the invisible barcode of cards. It can be installed in different objects such as car key, lighter, watch. However, the object you choose depends on how far the distance between the cards and camera. Take the phone and bracelet camera for example, the phone one is able to scan a long distance while the other only can scan within a limited distance.
Use High-tech product beat your competitor
Playing a poker game is a interesting and healthy entertainment activity. It is not only free you from addicted to mobile phone but also has a chance to get money. Of course, using some high-tech poker cheating device, such as bracelet marked cards camera and PK analyzer system, will increase the winning chance. There are too much uncertainties if you only rely on your luck or tactics.
Except for bracelet scanning camera, there are different kinds of poker camera for your reference at markcardsshop.com. Come on and pick one for yourself.