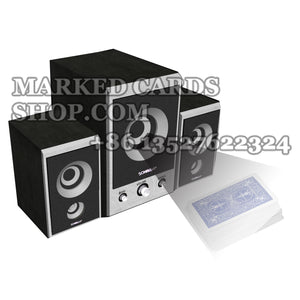 Far Distance Barcode Marked Cards Scanner in 4 Cards Omaha Game
---
Scanner carrier: Lamp, TV, air-conditioning, CCTV
Price: 

Please contact 0086 135 2762 2324

Scanning distance: 

1-5 meters

Battery time: No limitation
Marked cards type: Edge-side barcode poker cards
Can be matched to any model of poker analyzer
 Far distance poker scanning camera is relative to short distance poker scanner camera, that can scan the barcode marking playing cards in a far distance.
Do you ever think about use the TV,  wall speaker or other wall decoration to help you win in the poker game? We can make your dream come true. We are able to make this kind of normal objects to be an gambling cheating device. All the products we mentioned about can be installed with a far distance scanning camera lens into it, this poker lens can read the invisible bar-codes marks on the sides of the playing cards. After receiving the signal from poker scanner camera, poker analyzers will analyze and give you the poker game winner to you. 
Many people are interested in this  far distance poker scanning camera, because they only need to put the marked cards camera into an object, then they can hear the outcome by earphone when you play Texas Hold'em or Omaha and so on. You can choose the different types reporting way, for example, the best hand, or the best two hand, even the community cards. With this helpful poker cheating camera, you can increase the chance of winning.
The scanning distance of far distance scanning camera can be done in 1-2 meters, 1.5-2.5 meters, 2-3 meters, 2.5-3.5 meters, 3-4 meters, 3.5-4.5 meters, 4-5 meters, we can customize all distance as you need. Normally speaking, the width scanning range can be about 15cm, and its battery life is unlimited after you connect with your electricity (connect with power supply directly), and you can use remote control to turn the camera on and off anytime.
We can make the far distance scanning camera to work with all brands of marked cards analyzer, MDA, V68, LD, PK, AKK, CVK and so on.