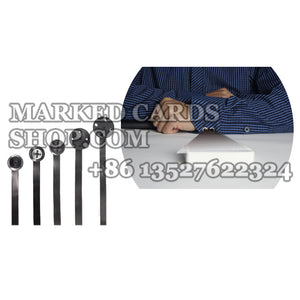 Button Scanning Camera with Short Scanning Distance for Dealer
---
Price: Please contact 0086 135 2762 2324
Scanning distance: 8-15 cm, 10-20 cm, 20-40 cm, 30-60 cm
Battery time: About 2 hours
Accessories: Spy headset, remote control, spare battery
Can match any model of poker cheating device
Suppose you are a poker player, you can make use of cards cheating device to win poker games, we offer the best cards cheating device that assistance you to increase the winning odds in poker games. Now we introduce you the cuff button scanning camera.
Cuff button with poker scanner is one of the poker scanner device launched by the marked cards shop in the recent days. Secretly scanning the bar code of the cheating poker cards can be easily be done with this camera. The cuff button scanning camera scan the whole deck of barcode cheating cards no more than a second. It has a very tiny poker camera lens inbuilt, which can't be detected by anyone.
After the dealer shuffling the cards and put it on the table, the cuff button scanning camera will scan the cheating playing cards and shared the information with connected playing cards analyzer, and the analyzer will immediately decodes the information and responds to the user with the game result. Playing cards analyzers of any series and generation are easy to use with this device. And we offer different scanning distance cuff button camera, you can choose the suitable scanning distance camera for your poker games.
Why you choose the cuff button scanning camera?
Cuff button scanning camera is good poker scanner for dealer and player to use for poker cheat, there are some reasons for many people choose it to cheat in poker.
Firstly, the cuff button camera is made with latest technology which fulfills all customers needs.
Secondly, it is very convenient for the user to use it to scan the barcode playing cards, you just need move your hand according to the position of cards.
Thirdly, the cuff button camera is inside your clothes, so you can take it anywhere.