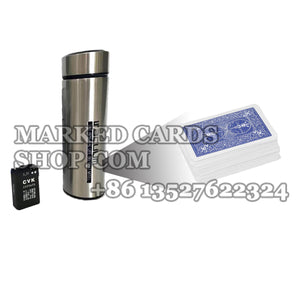 Water Bottle Scanner for Poker Analyzer and Barcode Marked Deck
---
Price: Please contact 0086 135 2762 2324
Scanning distance: 20-40 cm, 40-60 cm, 60-80 cm
Camera switch: Switch button
Battery time: About 3 hours
Matched analyzer: Any model of poker analyzer
Bottle is a very common thing in public areas, it is a good cover to install poker camera. Bottle cheating camera converts graphics or image information into digital signals in scanning system using optoelectronic technology and digital processing techniques. We have fixed the bottle with a scanning camera which can read barcode marked cards quickly and accurately in different distance, short and long, 20 - 40 cm, 40 - 60 cm, 60- 80 cm. What's more, we can also customize the big scanning distance 30 - 60 cm, 40 - 70 cm, to meet different clients' need.
Bottle poker camera is different from other types of scanning cameras, both in the aspect of scanning distance and working hours. It can keep working all day with the changeable batteries, so you don't need to worry that the camera may stop working for its battery runs out.
Bottle poker cheating camera is commonly used in poker analyzer system to capture and convert images into digital input devices that can be displayed, edited, stored, and exported by analysis system. With the barcode cards, you can know the winners easily.
Bottle poker camera can be placed on the table and it is very concealed. The scanning accuracy of bottle poker camera is stable, the definition is extremely high, and it is very stable. So, what is the principle of these latest bottle poker camera? How to use bottle poker camera to read cards?
As we know, the characteristics of bottle poker camera are fast, stable and high-definition. As long as you sit around the table and act as a normal poker player and begin the game. After scanning the barcode marks, the transformer will send the data to the phone poker analyzer and, a second later, you will know who the winner is.