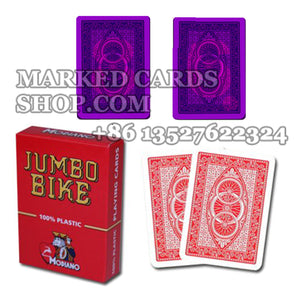 Modiano Jumbo Bike Poker Cheating Contact Lenses Cards
---
| | | | |
| --- | --- | --- | --- |
| Brand | Modiano Jumbo Bike | Size | Poker size |
| Color | Red & blue | Marked cards reader | Invisible ink contact lenses |
| Origin | Italy | Marked type | Invisible ink back-side marked cards |
Having a good poker cheat device, the Modiano Jumbo Bike cheat cards is the trick to increase the winning odds. The following sections will give you a rundown of important poker cheat card tips in becoming an excellent poker player. You can also increase your win rate by following these strategies.
Poker cheat is a luck based card game and with digital opponents, reading their emotions is more difficult. Lean into knowing the types of hands above and play big when you have strong hands. You can try bluffing, which is betting confidently when you have bad cards, to try and force an opponent into folding.
Although game protection is important to poker club and casinos, it's just about impossible to catch every cheat. Poker cheat card play a important role in this, especially Modiano Jumbo Bike Card. It is used widely in many countries, like Italy, Germany, France and so on European countries. Normally, Modiano Jumbo Bike poker cheat card can use to play Texas Holdem, Omaha 4 cards, Omaha 5 cards, BlackJack and so one card games.
Modiano Bike Trophy 100% Plastic Jumbo Index Playing Cards Features:
Authentic, 100% plastic playing cards manufactured in Italy by Modiano.

Classic four-color face cards with the distinctive Modiano ace of spades.

Beautifully intricate card backs featuring three vintage bicycle wheels.

Sized poker wide: 2.5" (62mm) by 3.5".

Jumbo index provides great visibility for a wide variety of card games.