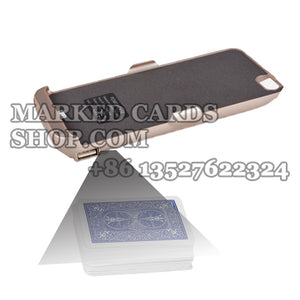 IPhone Power Bank Barcode Poker Scanner for Two Deck Cards
---
Price: Contact 0086 135 2762 2324
Scanning distance: 20-40 cm, 30-60 cm
Battery time: About 3 hours                                
Camera switch: Button switch
Can be matched to any model of poker analyzer
IPhone power bank scanner lens is your spy eyes in Texas Holdem or Omaha scanner system. It is one of the most popular gambling cheating device so far in the market. Power bank is very useful in today. It is easy to carry with large capacity. When the battery of your phone is running off, and there is no place for you to charge, power bank can help you.
 Perfect lens determine your good performance in the game
With the development of advanced science and technology, the power bank play an role as a poker cheating tool to see the barcode of the marking cards.
A good lens will capture sharp photos with plenty of detail and contrast, while a poor one can leave your images looking dull and blurry. If you have bought a phone analyzer, power bank will bring you more convenience in a poker game.
Follow the steps to use poker cards scanner  camera Iphone
A set of poker cheating devices including power bank marked cards scanner, poker winner analyzer, deck of barcode marked cards, spy earpiece. It is simple and easy to use. Put the power bank marked cards camera on the table, make sure the scanner is facing to the barcode marked deck, and they are in the effective scanning distance. Then the power bank poker camera will scan the invisible ink marks and send the information the poker winner analyzer. Within one second, the analyzer will tell you the winner of the poker game by the spy earpiece. 
There is a limited in the scanning distance of this power bank marked cards scanner. Normally, the nearest scanning distance is 8 cm, while the farthest scanning distance is 80 cm. But the working range is 20 cm.