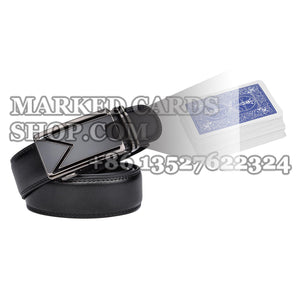 Leather Belt Cheating Scanner for Barcode Marked Deck Use With Poker Analyzer
---
Scanner carrier: Leather belt
Price: 

Please contact 0086 135 2762 2324

Scanning distance: 

8-15 cm, 20-40 cm, 40-60 cm

Battery time: About 2 hours
Marked cards type:

 

Barcode marking cards
Can be matched to any model of poker analyzer
Leather belt poker scanner works to get invisible barcode markings on marked decks, and send it to poker analyzer system. It is one of the best poker scanning cameras so far.

It is a real leather strap with great function. There is a camera lens hidden in the leather belt which can scan the barcode marked playing cards. This poker scanner camera can be used for all generations of poker analyzers. By scanning barcode marked cards to help the users to get the winner hands of the poker games easily. One of the big advantages for this leather belt scanner camera is that it is able to scan the moving poker deck.

No matter the poker deck is holding in your hand or putting on the table, this leather belt scanning camera can scan the invisible ink marks.
How To Use the leather belt scanning camera?
The user just need to turn on the switch of the IR camera in the leather belt, then the camera can starting working. The barcode marked cards within the certain distance can be scanned in a high speed. And then the phone analyzer in the pocket or where will report the poker game result to the user within 0.3 second so that the user can decide to continue or give up the game. All these can be operated by one single person so that the user doesn't need to let anyone else know about it.
The set of belt scanning camera includes one poker camera lens, one related charger and one battery that can last for several hours after charged well. Please feel free to contact by whatsapp 008613642643795 if for more!