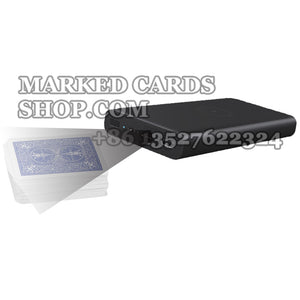 Power Bank Poker Camera Focus HD Lens for Dynamic Marked Cards
---
Price: Contact 0086 135 2762 2324
Scanning distance: 20-40 cm, 30-60 cm, 40-70 cm
Battery time: Continuous use for 5 hours                                 
Matched analyzer: Any model of poker analyzer
Marked cards type: Barcode marked cards
We have created the power bank poker card camera to satisfy your demands, which is one of most creative gambling cheating device. The power bank is common object which be used on our daily life. Nowadays people are custom to use the mobile phone and many other electronics. This is a good chance that you can take a power bank camera to the casino or on the stage of the magic show.
People normally say we should care about the inside, so does the cheating marked cards camera. The core component of it is the focus HD camera lens. It has different quality standard to meet the different needs. Selecting the perfect camera for your special situation based on the budget is the first thing you should consider.
The next we come to the appearance of this poker winner analyzer. There are several types of power bank mode can be chosen. You can pick the suitable color, the size and different brand to match with your style. It captured lesser attention by other people. Poker players often mention the safety means more bonus.
When you use this power bank marked deck scanner to scan the playing cards, you have to put this tool next to the invisible deck and make sure the camera lens focusing on the poker card. Better to practice the power bank camera before the real game, especial for putting it on the correct place. It can keep the winner result be given with one hundred percent accuracy correct.
This device can be widely used in Texas Holdem, Blackjack, Flush, Omaha or other poker games. And it is friendly to any types of the poker trick cards. The frequency of the device can be adjusted to suit for any version of the analyzer phone. Choose the power bank poker card camera, it never let you down.