Top 6 Marked Playing Cards In 2022
What Is Marked Card and How It Works?
A marked card is a playing card with markings on it. We divide marked playing cards into 3 main kinds for different markings: magic trick marked decks, contact lens marked cards, and barcode scanner marked cards. All of them can help you know the value and suit of the cards in advance. They each need to work with different reading systems.
Magic trick marked cards hide the markings on the back design and can be seen with naked eyes. But these code markings are very secret, and the back design changes are slight. So if you don't know the trick, you can't find the markings immediately.
Contact lens marked decks also hide marks on the back of cards. But these are invisible for naked eyes. So you need the help of special contact lenses/sunglasses. These lenses are specialized, so normal contact lenses and sunglasses in the market can't work for detecting these marked cards.
Unlike the above two, barcode scanner marked cards are with invisible code markings on 4 sides. This one needs a decoding system to analyze the information on the markings. The common system is a poker analyzer smartphone that can directly get the winning result.
Which Marked Cards Are Mentioned Here?
Here I have not only covered the top marked playing cards for magic but also the best marked cards for poker games. But, of course, they each have their own advantages. People can find the most suitable cards according to their demands. And for new players can better understand different kinds of marked cards and choose their novice gear.
With the development of card marking technology, there are more and more excellent marked cards. I just picked the top 6 to introduce according to my personal sales experience and feedback from our card marking technicians. Ranking in no particular order. And all of them are still available on the market in 2022. So if you are interested, buy them via the links.
Best Marked Cards for Magic
Magic trick marked cards are traditional markings because these markings are visible to naked eyes. But if you are not familiar with this kind of marked deck, you can't find out the markings immediately. So these cards are very suitable for some magic shows that the audience can't check and observe the cards. Now I will introduce you to the top marked cards for magic: Phoenix Cards and Cohort Cards.
Phoenix Marked Deck
Phoenix playing cards are manufactured by US Playing Cards Company which is the manufacturer of Bicycle cards. They use not only the same material as Bicycle cards but also with air-cushion finish. So the quality is guaranteed. Phoenix Marked Deck is designed by Card-Shark and especially made for magicians. These cards are punched through the backs so magicians can make Perfect Faro Shuffles. And there are markings hidden in the back patterns so magicians can read the markings easily without the help of any devices.
They just need to pay attention to the corners of the back design to find out those hidden markings. Because the markings are not small, magicians don't need to stare at the cards for a long time. So Phoenix marked cards won't cause other people's suspicion.
However, I don't suggest you let the audience have a close look at the card backs because these markings are obvious to some extent.
Cohort Marked Playing Cards
Cohorts by Ellusionist have blue and red cards. They are specifically designed for poker enthusiasts and magicians with vintage casino style, paying homage to the classic casino decks of the 1930s.
Cohort marked deck is produced by Cartamundi. So its design is more like Cartamundi's Copag decks than Bicycle cards.
Cohort blue deck is printed on the new slimline luxury pressed E7 stock. It is thinner than the red one and likely the thinnest playing card you've ever used. People have commented that it is perfect if the card is a little bit thinner in some card tricks. So now, the blue one makes it!
But some magicians will feel the thin cards will be easier to be bend and less durable. In this case, you can choose the red cards. Both two colors of Cohort cards are marked, and the marking system is ingeniously blended into the back design. So other people won't catch the card values immediately without training. Click the image below to learn more.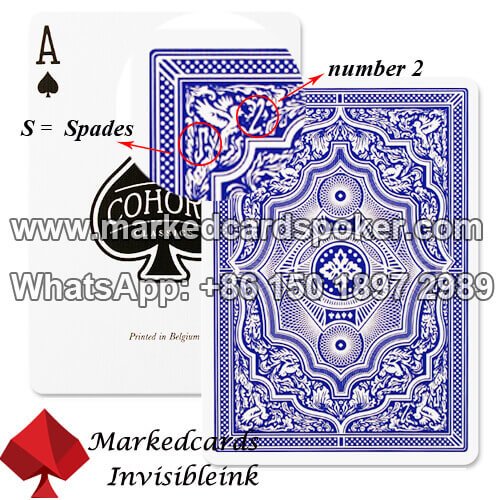 Best Contact Lens Marked Cards
Contact lens marked cards are with markings on the card backs. Magicians and players need to wear infrared contact lenses or glasses to read them. Otherwise, these cards look the same as the normal cards. With lenses, they can know the value and suit of the cards even when they are faced down. Our Marked Bicycle Cards and Copag 1546 Marked Cards always attract repeat customers.
Marked Bicycle Deck
Bicycle deck is the first choice for most magicians because this brand is deeply rooted in US people. It has been manufactured by USPCC for over a century, is famous and widely used in the USA. So people are very familiar with these cards. Also, if the markings are hidden in the back design, people can easily tell the difference.
Invisible ink marked Bicycle cards can't be read by naked eyes. And the back pattern design won't be changed. The markings are hidden in the back in an invisible way. As a result, these cards look exactly the same as regular cards. Without specialized tools such as infrared contact lenses and invisible ink glasses, no one can spot the markings. So with Bicycle invisible ink marked decks, magicians can let the audience have a close observation on the cards.
Bicycle cards are made of plastic coated paper material. It is not durable as 100% plastic cards, but its cost is cheaper. So Bicycle is very suitable for people who need to frequently change cards.
Copag 1546 Marked Cards
Copag 1546 marked deck, made from the original deck by Cartamundi, is also recommended. It is 100% plastic, so it can last for years outlasting paper cards up to 50 times. And it is thinner than most poker cards, easy to shuffle. Compared with other brands of cards, Copag 1546 cards have many sizes and colors for choice. So these cards can satisfy the demands of many people. One thing to note is that they are sold in sets. So we can't only choose our favorite colors.
There are mainly 3 marking formats for contact lens marked cards: big fonts in the middle, small markings in 4 corners, and minimal marking in the white border. Copag 1546 set can help you try 2 kinds of markings at the same time. In this way, you can better know which marking is more suitable.
Copag 1546 is packaged in a durable and solid hard plastic storage case that can perfectly protect cards and reduce marks-air contact. In this way, the invisible ink markings can keep for a longer time.
Best Barcode Scanner Marked Deck
Barcode scanner marked cards need to work with a poker analyzer system. Only with this system, can players know the secret of cards. You just need to let the system scan the invisible barcode. Then you can know what you want to know. What's more, many everyday objects, such as clothes, power banks, can be installed with a scanning camera for work with the poker analyzer. Our card marking technicians take pride in Invisible Modiano Cristallo Barcode Cards and Bicycle Prestige Marked Cards.
Modiano Cristallo Marked Poker Cards
Modiano Cristallo cards, manufactured in Italy, are trendy in Europe. They are 100% plastic playing cards with superior texture and shape retention. In addition, they are thicker than other cards, so they don't bend easily. Modiano Cristallo deck is poker size card with the 4-pip jumbo index.
Why do I think Modiano Cristallo barcode marked deck is one of the top 6 marked cards? The reason is that these cards have some striped patterns on 4 sides, which can better cover the invisible barcode markings on the sides. Because of it, Modiano Cristallo barcode marked decks can be kept longer than other barcode cards. And these striped patterns won't affect the performance of barcodes.
If you want to use cost-effective cards, this one is a good choice. And Modiano Cristallo cards have 10 colors. Unlike Copag 1546, Modiano is not sold in one set. So you can pick up what color you want to buy.
Bicycle Prestige Marked Cards
Unlike other Bicycle cards, Bicycle Prestige cards are manufactured by Naipes Heraclio Fournier ("Fournier") in Spain, which has joined in USPCC family in 1986. The pre-printing process of Fournier uses the latest CtP, offset Heidelberg technology. So Bicycle Prestige offers unmatched durability and is the only 100% plastic card to offer a paper-like feel. These cards are very suitable for a neighborhood game or a professional tournament.
Even after marking, the quality of Bicycle Prestige marked cards won't be changed. And because of the material of Bicycle Prestige cards, their barcode markings can keep longer than the barcodes on other cards. If people like Bicycle rider back design but plastic cards, Fournier Bicycle Prestige marked deck is the best choice.
Conclusion
The discussion about which marked playing cards are the best on the market has lasted for a long time. But there is still no authoritative result because everyone has their favorite marked cards in mind. Here, I just list some to express my thoughts about top marked cards. If you are a new player about it, you can take these cards for reference. Different kinds of marked cards have their own advantages. You need to try by yourself and then find your most suitable cards.
---
Share this post
---
---
2 comments